https://www.afka.net/Mags/The_New_Research_Of_Tuva.htm
The New Research Of Tuva – Новые исследования Тувы
RussiaНовые исследования Тувы – The New Research Of Tuva was founded in 2009. This scientific journal is published online. All the issues are downloadable as PDF files. ISSN 2079-8482 www.tuva.asia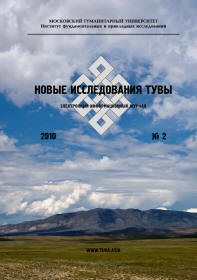 No. 2 Issue 6
Мега-звезда музыкального небосклона Тувы (к 50-летию Кайгал-оола Ховалыга)
(Mega-star on musical horizon of Tuva
To the 50th anniversary of Kaigal-ool Khovalyg)
By Сузукей В.Ю. (V. Yu. Suzukei), pp 325-332
---
Article is devoted to the most renowned performer of throat singing in modern Tuva, one of the founders of folklore group Huun-Huur-Tu Kaigal-ool Khovalyg, who turned 50 in August 2010.
In this article is written how Kaigal-ool Khovalyg four times visited Frank Zappa at his home.
First visit was in the beginning of 1993, when Huun-Huur-Tu arrived first time to USA. In this time Tuva musicians had no idea who Frank is and didn't understand why their manager was so excited after getting invitation from Zappa.
Second visit happened in the beginning of February, when Huun-Huur-Tu returned to Los Angeles after the tour. This time Zappa invited them together with Johnny "Guitar" Watson. They jammed and recorded (both audio and video) together with Irish and Afghan musicians.
Third time Zappa invited them in July. This time Zappa had by chance other visitors from Russia too – members of the hard rock band Gorky Park, Alexey Belov and Alexander Lvov – who were very amazed to see Russian speaking people at Zappa's house. Zappa presented the Tuva musicians as "my dearest friends". No recordings were made this time.
Fourth time Kaigal-ool Khovalyg visited Zappa in October. He was together with his wife and 9-year old pupil Bady-Dorzhu. Zappa was amazed on musical capabilities of this boy.
Here is the youtube clip – Kaigal-ool Khovalyg and Bady-Dorzhu appearing in Chevy Chase show, October 1, 1993.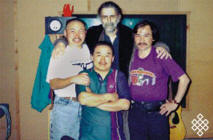 Source: Nikolai Zaharov https://www.afka.net/Mags/Frames/Russian_magazines.html
Maintained by Avo Raup – afka (at) afka.net | Page updated: Thursday, April 15, 2021